Corflute is a fluted plastic (also known as corrugated plastic) which usually comes in two thicknesses – 3mm or 5mm.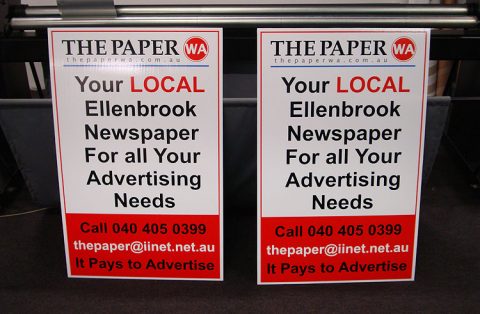 The beauty of corflute signs is they're cheap and light-weight. They're also relatively strong in proportion to their weight.
Corflute is an ideal product for short term displays, point-of-sale, hanging signs or fence signs. Corflute is also used for football club signs, soccer club signs and other small, light-weight signs.
Corflute is not recommended for signs which will be in the sun a long time and it can warp a little if exposed to too much heat. However it can be rigged up with cable-ties through eyelets which will strengthen and flatten the sign.
Corflute signs are fantastic for exhibitions, home-opens, for sale signs, danger signs, warning signs, and general safety signs.
If you have any questions on whether corflute signs will suit your needs, then please call us by heading to our contact page.