If you're after corflute signs and you're a Perth business, then you've come to the right place. Even if you've heard the term corflute but don't quite understand it, we're here to help.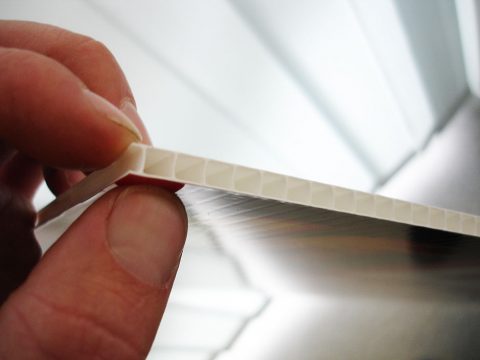 Corflute is the industry name given to corrugated polypropylene, a fluted plastic which is lightweight yet rigid. The plastic is extruded to give it the large rectangular flutes all the way through it, and it has medium outdoor longevity. The name "Corflute" is actually registered to Corex but the industry has picked it up and now uses it as a generic term for fluted plastic.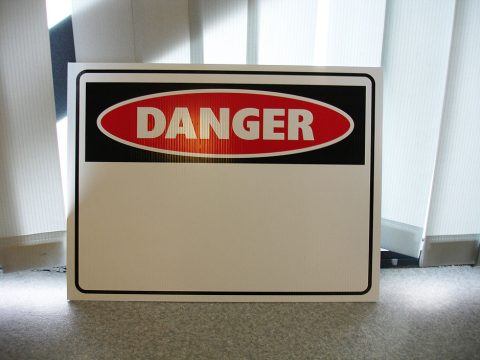 The reason the sign industry loves it is because it's cheap and easy to cut to size. It also can be used for freestanding A-frames due to its inherent strength. It comes in a variety of thicknesses but the most common for the sign industry are 3mm and 5mm. It comes in most standard colours (black, white, red, green, blue and yellow) however white is the most common.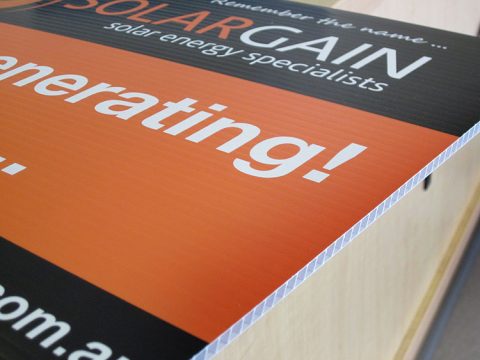 The packaging industry and construction industry also use corflute for creating boxes or for packing out or protecting large areas. The standard sheet size is 2400mm x 1200mm although sheets can be found up to three metres long.
Corflute signs made by Perth Graphics Centre are made from high quality corflute so you can be sure you're getting the best of the best. We also sell corflute sheets, so when you're thinking corflute, think Perth Graphics Centre.
When you next order corflute signs Perth Graphics Centre should be your first port of call. With refined production processes and lightning fast printing, we can make cheap corflute signs that get your message across.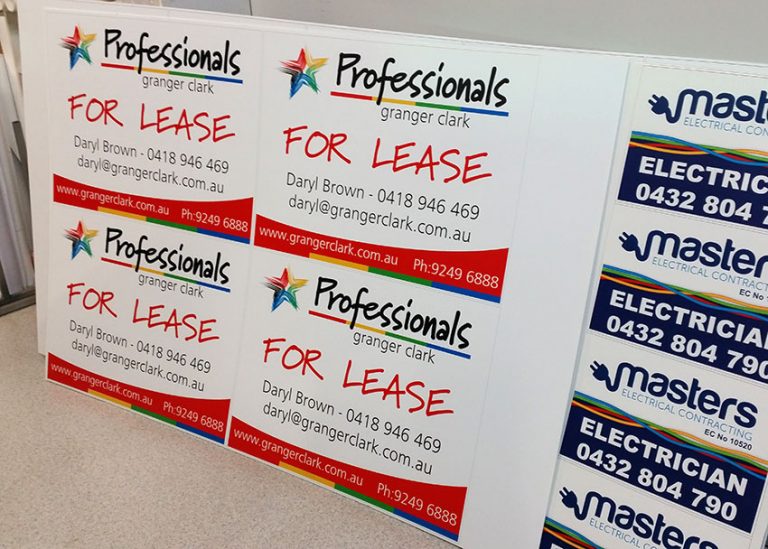 Perth Graphics Centre can also print single sided corflute signs and double sided corflute signs – the choice is yours. Our corflute signs are also available with eyelets and there's always the option of triangular A-frames in corflute.
Most of the corflute signs Perth Graphics Centre makes are made from 5mm thick polypropelene but there is also the option of 3mm and 8mm, depending on cost and how long you need them to last.
Whether it's one colour or full colour, you can rest assured knowing the price is the same. Event signage? No problem. For sale signs? Easy. Temporary wayfinding? No worries.
When you need cheap corflute signs, Perth Graphics Centre is your one stop sign shop.
Perth companies looking for a cheap signage alternative should look to corflute signage to increase their exposure. Corflute signage uses a cost-effective, lightweight plastic called Corflute.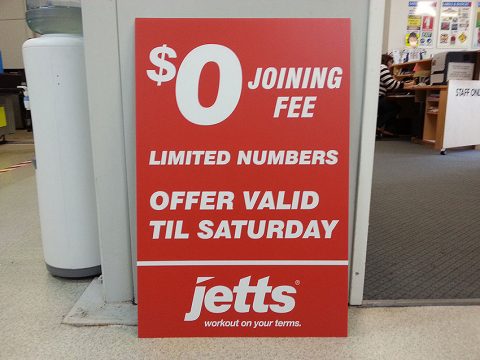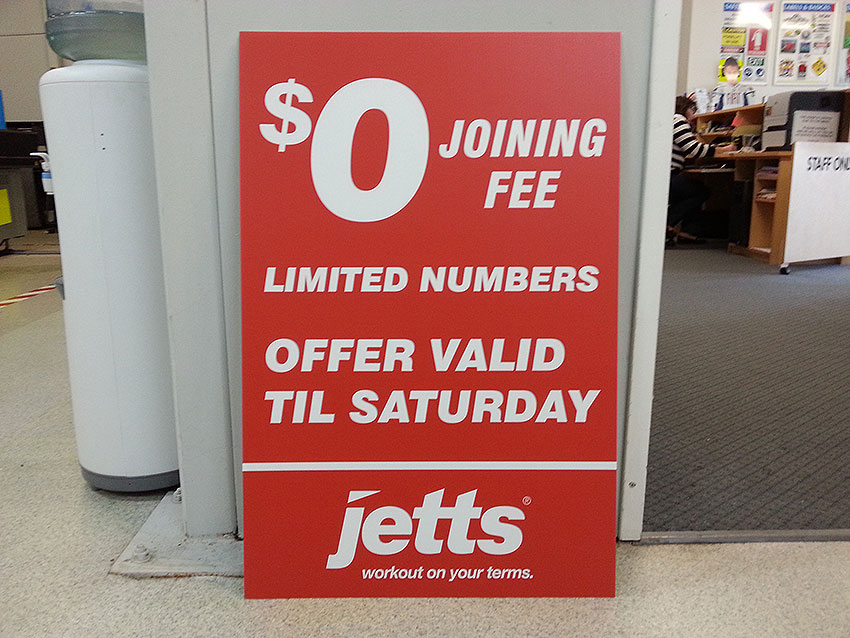 It comes in 3mm and 5mm thicknesses and the most common maximum size is 2400mm x 1200mm. Corflute is cheap and being made from polypropelene it is also recyclable.
Do you print your corflute signage in-house?
Absolutely. With our huge flatbed printer, we print directly to the corflute, keeping control over the whole production process.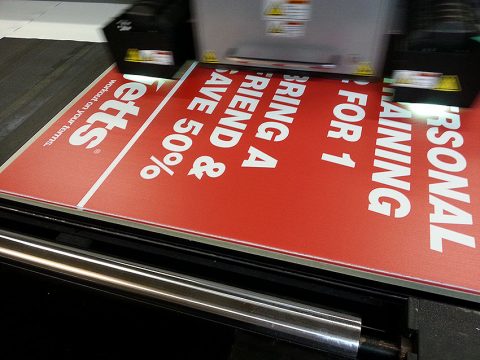 Seen above is our machine at work, printing corflute signs for Jetts Fitness. Because we can match colours with our vibrant inks, Jetts was thrilled, and it kept the branding in line with their style guide.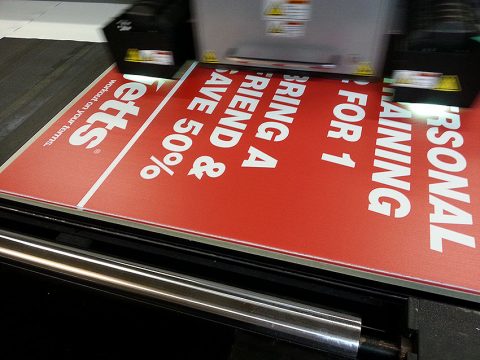 With instantly dry inks, the sign was turned around post haste, and the client was very happy. We're confident that we can meet your corflute signage needs, too. So, if you have an event, or a short term promotion, consider using corflute. Perth Graphics Centre will be happy to guide you through the production process and make suggestions to help your dollar travel further.
Contact us today and find out how corflute signage can help your Perth business.
When you want a cheap, lightweight sign, corflute is the product to choose, and when you need corflute signs, Perth Graphics Centre is the place to head.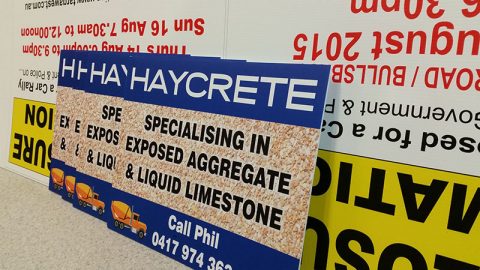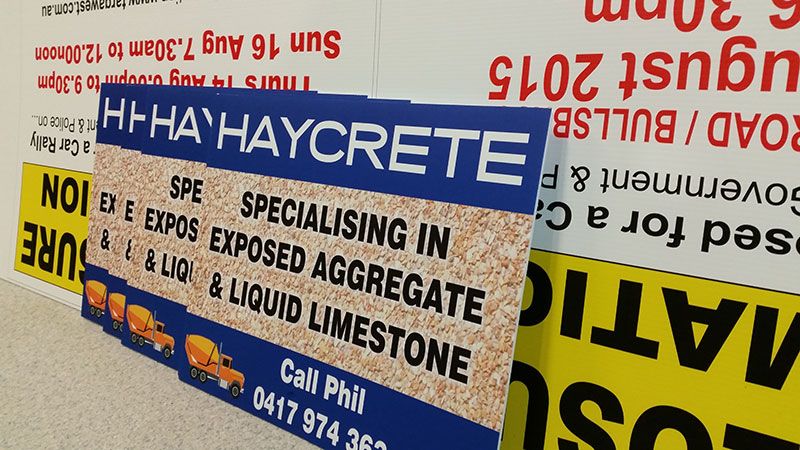 Our customers keep coming back for more corflute signs because Perth Graphics Centre prints them quickly and cheaply. And with Perth's best service, what more can you ask for?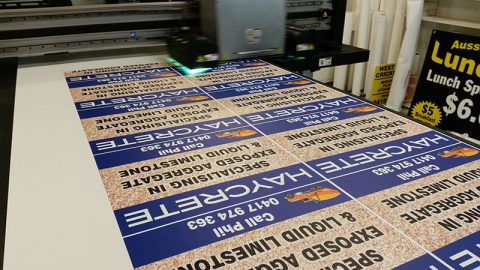 Our corflute printing process
Rather than fiddle with costly setup for screenprinting, Perth Graphics Centre prints corflute signs with a state of the art UV-curable flatbed printer. The colours pop, the edges are crisp and the inks last outdoors for years.
You can see above a photo of our printer in action, with liquid plastic inks which cure and bond to the surface when passed by a UV lamp. The results are spectacular and because we print all our corflute signs in house, there's no waiting around. If you want blank corflute sheets we can supply those, too.
With our printers running every day, we're fast and because we're always making corflute signs, Perth Graphics Centre can keep the costs down, too.
So, when you want corflute signs, Perth Graphics Centre should be the first place to head. We're looking forward to helping you with your signage needs.
Did you know you can buy your corflute sheet from Perth Graphics Centre? We always have corflute in stock, and we can either supply corflute sheets, or we can print corflute signs. Perth Graphics Centre stocks the standard sheet size of 2440mm x 1220mm and you can choose from 3mm or 5mm sheet.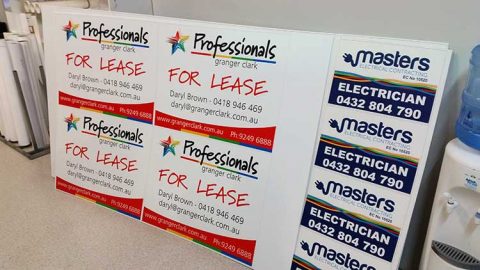 The most popular corflute is 5mm, and it's made from outdoor-grade polypropylene. The flutes run the length of the sheet, and corflute can be easily cut to any size required. Corflute can also be folded or scored along the flutes for easy transport.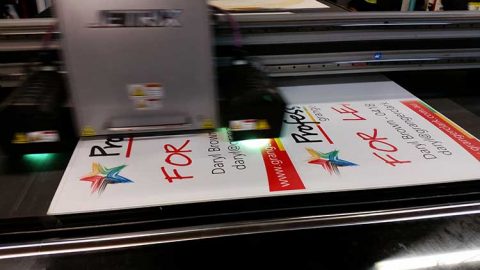 If you are collecting corflute sheeting from Perth Graphics Centre's Malaga office, we'd suggest ensuring you have the right size vehicle for transport. A van, ute, flat-top truck or large trailer will do the trick.
So, if you're seeking quality corflute and a great price, then please call Perth Graphics Centre or email us for a quote.
Contrary to popular belief, not all corflute signs are made the same.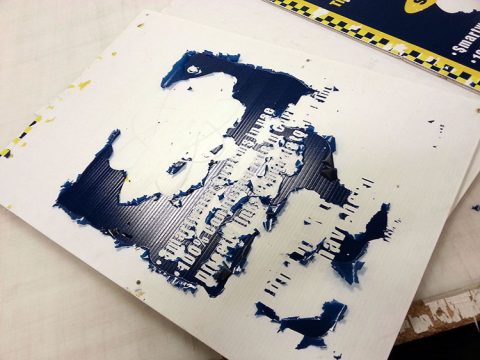 Because corflute has a low surface energy, it is quite difficult to get inks to adhere. Seen above is an example of poor ink adhesion. The company which printed these signs, didn't take extra steps to improve the ink's adhesion. However, here at Perth Graphics Centre, we do.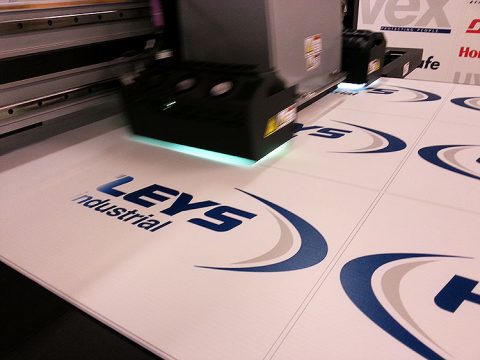 Using a pre-printed primer (the process is shown above), the inks actually cling to the corflute meaning no moisture absorption can lift the ink off. The primer we lay down onto the surface also helps prevent the inks from scratching off.
If you are ordering corflute signs from Perth Graphics Centre, you can be sure that your corflute signs will last the distance, and won't peel, flake or lift. That means your business signage looks its best, and that imbues an air of quality. The next time you need corflute signs, make sure you get them from Perth Graphics Centre.
Corflute signs are lightweight signs made from corflute. Corflute is the name given to corrugated plastic. Corflute signs come in various thicknesses, the most common in the sign industry being 3mm and 5mm thick. There is an 8mm option as well, but cost and weight are the two factors which see it not being used as much.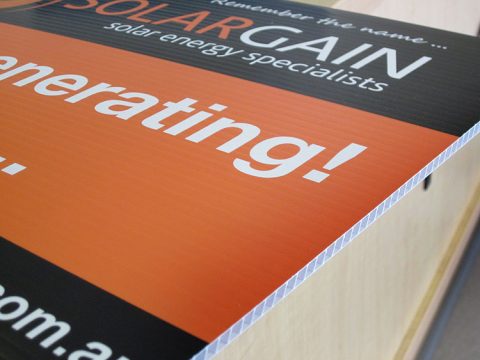 It's ideal for signage as it is cheap, light weight, and is outdoor durable. Being plastic, it's weatherproof and it can be folded or scored in the direction of the flutes, meaning it makes ideal A-frame plastic signs (also known as roster signs). It can be printed by screenprinting or by UV curable digital printing, both of which methods we cater for at Perth Graphics Centre.
Our inks always adhere to our corflute and we can do single colour, full colour or even photographic work. Need a different name on every sign? We can do that, too. If it's a sign and it's on corflute, we can do it.
How long do corflute signs take to make?
Corflute signs are being printed every day and because of this we're always doing print runs. This means we can make your corflute signs within a few days. If you have a large run, then it usually takes around a week.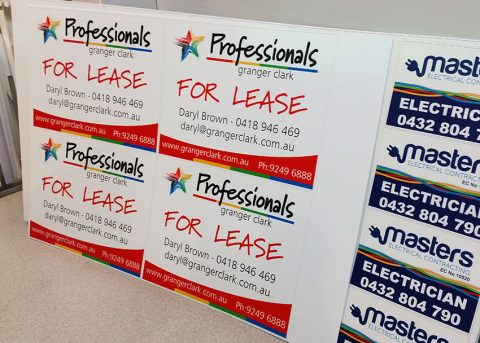 Here at Perth Graphics Centre we always have corflute in stock, and we can make roster signs, directional signs, safety signs, promotional signs, real estate signs or any other cheap sign you need. Corflute is a great option when you're looking for budget signs, and Perth Graphics Centre is ready to help. When you need corflute signs, think Perth Graphics Centre.