Signs for a Ford Focus – partial vehicle wrap
Perth Graphics Centre was contacted by M2 Technology about signwriting their Ford Focus, and through consultation with their graphic designer, we were able to achieve the above result.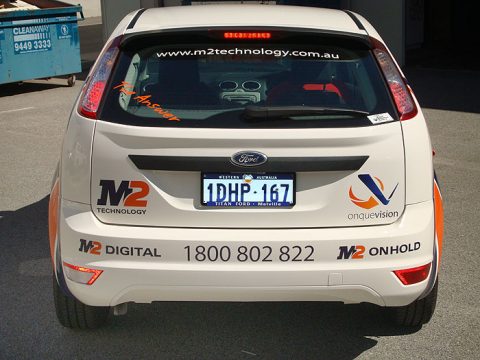 Two custom colours were required to keep M2 Technology's colour consistent, and so digital print was chosen as the best way to achieve this look.
We used our solvent-based digital printer to print onto a high performance cast vinyl and then overlaminated for protection. This gives the longest lasting job as well as the greatest colour consistency.
While you couldn't call this a full vehicle wrap or even a half vinyl wrap, it still requires the same fitting skills and the greatest attention to detail to make this Ford Focus look as good as it does.
If you're looking to do signwriting on your Ford Focus, Volkswagen Golf, Hyundai i30 or even signs for a Holden Ute or Ford Ute, then give us a call or head to our contact page.