Fleet signwriting: Perth Graphics Centre pumps out more cars for Fisheries
Fleet signwriting may seem like a simple task, but there's a lot more to it than meets the eye. Here at Perth Graphics Centre, we cover all bases, including signage materials choices, ink types, the use of protective overlaminates and surface preparation.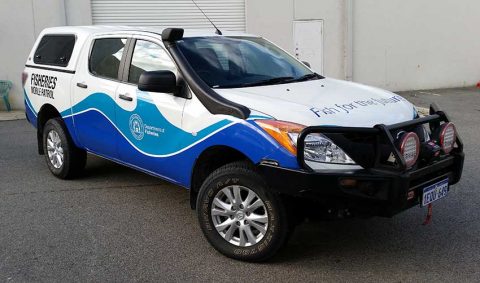 Fleet signwriting materials
When signwriting a fleet, there's only really one choice for vinyls – cast. We use a variety of cast materials, but we've settled on Avery vinyls because of their quality, colour consistency and printability.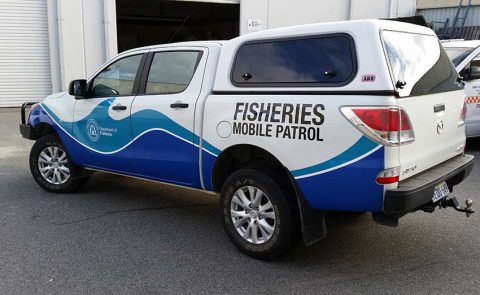 To make sure it all matches, we also use Avery overlaminates. The expansion and contraction of the two vinyls is then equal, and why is that critical? So that you don't get any lifting or curling of the edges. Ink choices are also very important, which is why we only use outdoor-grade solvent-based inks. Compare how long enamels last outside in comparison with water-based paints and you get an idea of why we've opted for the stronger inks.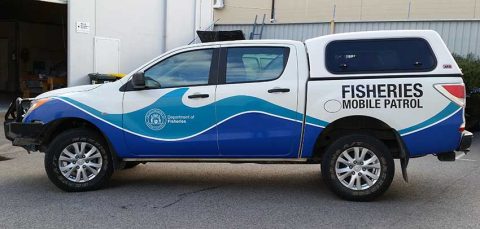 Solvent-based inks also give you a far wider colour gamut meaning we can match corporate colours much better. And with our gloss levels being comparable to that of paint, it simply blends in.
Seen above is another one of the Department of Fisheries vehicles. Perth Graphics Centre was selected as the preferred tenderer due to our knowledge of fitting and printing. But our pricing is also another reason to visit us.
When you need fleet signwriting done, visit the experts at Perth Graphics Centre – we're your fleet specialists.