Metal signs are the most durable of all kinds of signs. There are lots of different types of metal signs, including the following:
Colorbond signs
Signwhite
Aluminium signs
Aluminium composite signs (these are different to aluminium signs)
Galvanised metal signs
By far the most common metal signs are those made from Colorbond or signwhite (a slightly thinner gauge of Colorbond). Signwhite signs have a white background to begin with and can be painted, have vinyl cut lettering on them, or have digital print on them. They can withstand extreme temperatures, so are perfect for very hot environments.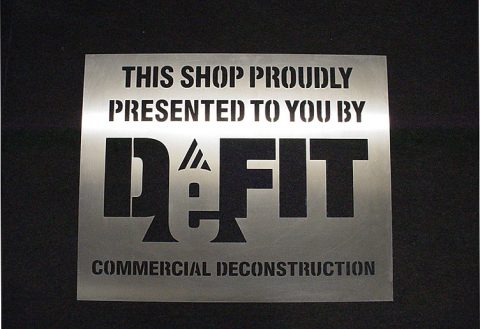 Aluminium composite signs are becoming more popular due to their strength and their light weight. Aluminium composite signs are made by sandwiching a thick piece of polypropelene plastic in between two sheets of aluminium. The standard sheet size is larger than signwhite meaning less joins, and it lays flatter than signwhite. However it does expand and contract in extreme temperatures and so is better suited to mild climates.
Aluminium signs are just a thickness of aluminium as a sheet. These are usually engraved or painted as vinyl doesn't adhere to them as well, due to their oily nature (which is eliminated once it's painted).
Galvanised metal signs are a sheet of zincalume which has been painted and lasts for a very long time, although it is quite an expensive process.
For most intents and purposes, signwhite or aluminium composite signs will do the trick.
However, if you have any questions regarding your signage needs, please be sure to head to our contact page and email or phone us – we'll be happy to help.