A quick, temporary way of getting your message across is a banner. Perth Graphics Centre recently installed this large banner onto the St Luke building in Karrinyup, announcing the arrival of the doctor's surgery.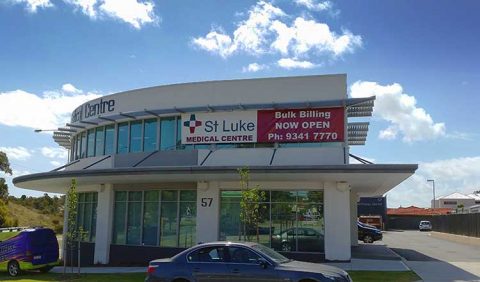 Using ropes, eyelets and bungee cord, we've positioned the banner for maximum impact with minimum interference. It has been secured to be safe from wind and rain, however the materials we use for our large banners are all weatherproof.
Our large format printer can print any size banner, so if it's a simple For Sale banner or a billboard, we can do it.
There are also light and heavy duty grades of banner material, so if you aren't sure, we can help guide you through the process of choosing the best materials for your banner.
Do you have a storefront you'd like to get noticed? Then ask us for a quote on large banners. Perth Graphics Centre – your one stop banner shop.