Yes, Perth Graphics Centre is talking banners again. Banners are quickly becoming the most sought-after kinds of signage because they're light, cheap and portable. You can use the ropes to string them up anywhere or you can use the eyelets to cable-tie them to a fence.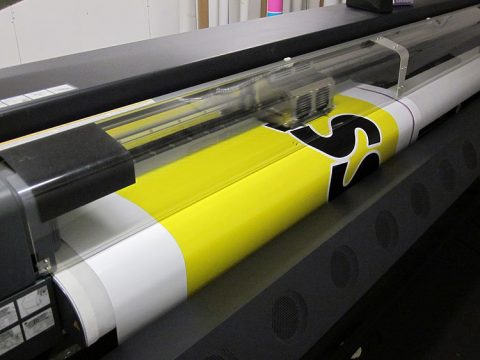 That's the beauty of banners. They can be put up and taken down in a matter of minutes. Perth Graphics Centre makes so many sizes of banners and with our high-speed printers you can be assured of quick turnaround and great prices. Plenty of Perth businesses are realising that banners are so versatile that they order several at a time, saving money. Seen above and below is our banner printer hard at work creating high quality banners for one of our loyal customers.
Also bear in mind what banners are: a banner is a PVC material which is made with ropes and eyelets and can be rolled up. Often we are asked for a banner only to find out in discussions that the customer was actually after a corflute sign. Windscreen banners are another term which is often used, but this actually a sticker which goes across the windscreen.
Vinyl banners are certainly the best was to promote your business on a budget. If it's banners you're after, contact Perth Graphics Centre and let us take care of your banner needs.